About Us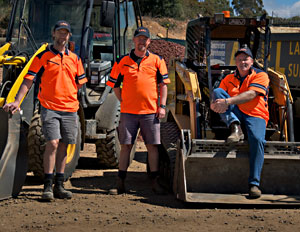 ABEL Landscape Supplies is a Tasmanian family-owned business providing honest, dependable service, great prices and quality products since 2005.
We supply a large range of bulk landscaping supplies to both the commercial building industry and DIY customers in and around Launceston and central-northern Tasmania. From a bucketload to a truckload, no amount is too big or too small. We provide complimentary trailers and can arrange fast same-day delivery to your home or work site.
ABEL stock the following wide range of products
Decorative stone gravels and mulches suitable for driveways, paths and garden features
Bark mulches for gardens and landscaping
High quality composted and top soils
Construction gravels, sands and cement for concreting, road bases, paving and drainage.
Clear and coloured concrete sealers
New and recycled timber sleepers
Gumnut pavers
We not only can supply construction materials for your project, but also the equipment needed to get the job done. Cement mixers and motorised wheel barrows are available – with or without an operator – at competitive rates.
Need help with your landscaping project? We are also more than "ABEL" to provide advice and skilled equipment operators to make light weight of even the most demanding jobs.
ABEL Landscape Supplies are open 8AM-5PM, 7 days a week, so we're always available and ready to help when you need us. Simple get in touch for an obligation-free quote.